Masters In Creativity has launched its 2nd International Jewelry Design Contest "To Wonder",at an event at the Royal Academy of Fine Arts in Antwerp, Belgium.
As the co-host of the competition, KoMASK( Royal Society for the Encouragement of the Fine Arts)co-sponsored the event. KoMASK was founded in 1786 on the eve of the French revolution. After more than 200 years of development, KoMASK, initially founded for purely artistic reasons by artists, has developed into a European royal organization for the support and promotion of art, in collaboration with more than a dozen European royal art academies.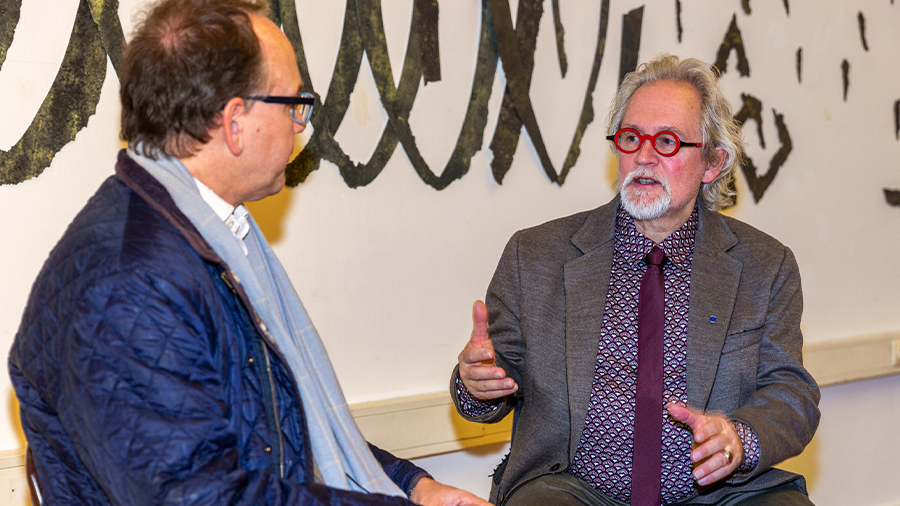 Co-founder and editor of digital magazine Jewellery Outlook Mr. David Brough talks to Mr. Bart'd Eyckermans,President at KoMASK

Master salon is an outstanding part of the activity, which has grown into an internationally established cultural activity in Europe, attracting guests from America, Russia and China. President Bart'd Eyckermans and the heads of more than a dozen other European royal academies attended the event.
Networking between cultural and art practitioners and designers
MIC Contest launches its 2nd International Jewelry Design Contest "To Wonder"
MIC Contest general planner Ms. Jennie Baeten made a speech to announce the launch of the second MIC Contest "To Wonder". More than 200 European designers and celebrities of art and culture participated in this event.

MIC Contest Planner Ms. Jennie Baeten gave a speech
MIC Contest has attracted the attention and discussion of designers
Mr. Wang Zhao, the representative of FVBA, the strategic partner of MIC, gave a speech of congratulations on the success of the event,to jointly promote the integration and development of international art design, and announced that MIC's first culture and art center will open in March 2020 in FVBA of the greater bay area, China. This will be an open platform to the world: all designers are welcome to exchange ideas and collaborate here.
MIC culture and art center will locate in FVBA,China
The MIC Contest will encompass more activities in the future,to promote new international creative talent, and is open to all.